Our Sprinter van dog barrier keeps the dog out of the cab area while driving. The dog barrier quickly attaches to both headrests and clips into the standard lower d-rings. 
Measures 30" tall x 55" wide.
This particular model was designed specifically for the Mercedes Sprinter. Since our products are made in house, we can make a barrier any size and configuration you need for your van. Contact us for details.
Proudly made in the USA and backed by our lifetime workmanship warranty. 
This is a Pole we recommend for the bottom sleeve of the barrier, it keeps is stiff and aids in the dog not being able to get under
https://www.lowes.com/pd/Hillman-48-in-Orange-Reflective-Rod/3025196
or a 1/4" wooden dowel will work well
PLEASE Watch Video !!!!
 020921
Customer Reviews
10/28/2022
Susan

United States
Dog Barrier is perfect
This barrier was exactly what we were looking for to keep the pups out of the front. Super easy to install. Great quality. Had questions that were answered right away and shipping was way faster than expected. Rob even reached out after I got the product to see if I had any questions. Highly recommend.
05/21/2021
Lisa

United States
Dog barrier works great!
Great solution to keep my dogs from being able to get by my feet while driving. First used when we drove 1500 miles to our destination - 12 week old puppy and 65# golden. I did put the bar in the bottom pocket initially, but found I didn't need because I could install it security enough without it. You can un-clip it easily to lower or remove the barrier. If you know your dogs are climbers or escape artists, I think you can order a taller version.
05/18/2021
Brian N.

United States
Missing the seat straps
This product will work great and I like the weight and size. We can roll it up when not needed. However, the product came with no seat straps and the height was 30" and not 25" as advertised. It's is expensive for what you get. Support have been in touch with us but the issue has not been resolved yet. Brian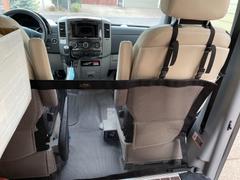 10/28/2022
Overland Gear Guy
There are no missing straps, according to this photo the Dog Barrier is complete and yes it is 30" Tall "Measures 30" tall x 55" wide."
01/14/2021
Laura R.

United States
mesh dog barrier
Our dog (60 pound Catahoula) was able to quickly realize that he could slip beneath the barrier and was in the front seat in minutes. He was not to be fooled even though the barrier appears sturdy and well made, there is enough of a gap in the material between the two seats for him to get underneath. If he can do it, any dog less than his weight and size will be able to sneak under as well.
02/01/2021
Overland Gear Guy
Hi Laura, You should have contacted us, if installed properly with the velcro straps through the "D" rings (as Shown in the Video) that should keep it extremely tight, there is also a Slot in the Webbing at the bottom of the Barrier, that will accommodate a Dowel or Fiberglas s rod, making it 100% impossible for anything to get under there, certainly a 60 lb dog
08/21/2020
Clifford B.

United States
Great Product!
Great fit. Keeps my pups out of my cab. Very well made and easy to adjust.