Maximize underutilized space with Sprinter Door Panel Organizers. Installation is as easy as detach your existing panels, insert into organizer, and reattach to the door.

If you do not have Bare Metal on your Sprinter Doors, like in these Photos DO NOT ORDER These panels.
* If you have a Crew Van, These will Not Work!
* If your Van has Rear Windows, These will NOT Work!
* If you have a Winnebago, Storyteller or Airstream Van, These will Not Work!
Sprinter Door Panel Organizers features:
3 Oversized zippered pockets
Mesh slip pockets

5 solid velcro top pockets.

Dual pen pocket
Available in a variety of colors. Sold individually or as a set (1 driver side, 1 passenger side). Made to order in the USA, backed by our lifetime workmanship warranty.
Each Van is Different, the holes are in different positions, so we Do Not Put the holes in the Panels,  if we did,  they maybe off an inch or so, and then they would not work,  You will need to poke the holes in the place that matches your Holes in your panels 
You will need to retain all the clips that you pull of of the panel to reuse.

** PLEASE NOTE: Currently only available for Sprinter model year 2019 and newer. Not all Sprinter have rear door panels! Please verify you have panels PRIOR to ordering!! **
Customer Reviews
01/31/2021
Charles R.

United States
Don't come with eyelets for the clips to go through.
I like the product and the quality, but I'm not sure of the best way to install this product. It doesn't have an eyelet for the clip to go through, so you will be putting some kind of hole in these to make them look like they do in the photos. Had I known that, I likely wouldn't have purchased. Will be getting a grommet tool to do these the way they should have come.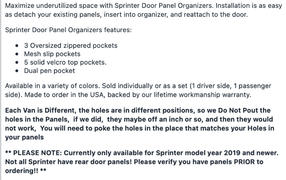 02/01/2021
Overland Gear Guy
Each Van is Different, the holes are in different positions, so we Do Not Pout the holes in the Panels, if we did, they maybe off an inch or so, and then they would not work, You will need to poke the holes in the place that matches your Holes in your panels